artist statement
I've had many incredible opportunities in my life, but travel has been my greatest teacher. While my university education, workshops I've taken, the artists I've studied have certainly guided me along the way, I have learned the most from traveling. When I was 23 years old, I had the opportunity to travel extensively in Europe, meeting wonderfully established people -- some incredibly brilliant and some extremely successful. Since then, I have made time to continue to travel. Exploring new places has been a main influence in my art. I love seeing how others live, the way different cultures celebrate all the senses. I especially value seeing art from all around the world – the different styles, colors and textures. I love the freedom of travel, and I think we always should be moving on a path, just as art should continue to evolve to follow the interests of the artist. As a child, I was always interested in drawing. Children and artists are like sponges, they absorb everything, ponder and create. I still sketch, and I love to teach art. My degree is in art education. It has given me the opportunity to instill an appreciation for art in my students. Ceramics fascinate me, because it's functional. I love sculpture – it invades your space. You have to walk around it; you have to deal with it. It's not something you can just walk past. The subjects of my art vary. I still take workshops and continuously learn from other artists. I'm looking at clay as a tapestry – it's telling my story. My life has been a grand opera – tragedy, death, destruction and great joy. The journey is unraveled in my art.
"Classic Touch" was a group show curated by Cadence Enterprise that featured my ceramics. The event was held at Winter Street Studios in Houston, Texas.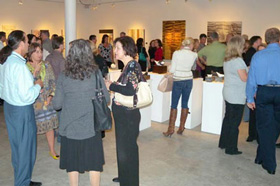 The show also featured some of my favorite local artists: Justin Garcia, Terry Klumpp, Matt Manalo, Matt Messinger, Lindsay Peyton and Allan Rodewald. Alan Hawkins provided classical guitar selections for the evening.